The outgoing Hon. Minister of Power, Engr. Abubakar D. Aliyu, FNSE has said that the Power Sector has been repositioned to thrive because of the collaboration and co-ordination amongst the stakeholders.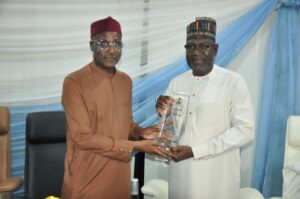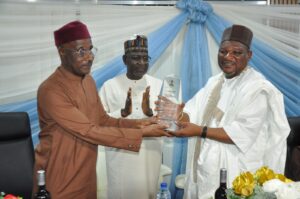 He said this in his valedictory speech in Abuja on Thursday 25th May, 2023, when the Ministry organized a sendforth dinner for him and the Hon. Minister of state Power, Mr. Jedy Agba in recognition of their outstanding achievements.
Speaking, Abubarka highlighted some of the achievements which he attributed it's success to the synergy that existed amongst the stakeholders.
"The Zungeru hydroelectric power plant has become a reality as it was tested and proven to have added 700MW to the national grid.
The kashimbilla hydroelectric power which is a joint project with the Ministry of Water Resources has been completed, supplying electricity to Yandev in Benue state. "Over 240 kilometers is completed, phase 1″. He said.
This is to mention but a few.
He revealed that Electricity is a value chain, from generation up to distribution The knowledge of this necessitated the rescripting of the power sector and it became more proactive and we'll coordinated unlike how he met it.
Eulogizing the commitment of everyone that contributed towards the success story, he said that the era of speaking differently and working in silos is over and admonished all and sundry to eschew rancor, as it hampers effective service delivery.
Meanwhile in his short speech, the Hon. Minister of State power, Goddy Jedy- Agba, said it's been long, years of hardwork, but the effort of the stakeholders have made the achievements remarkable.
Agba appreciated the Federal Minister of Power, for giving him the opportunity of working with him in great harmony.
Earlier, the Permanent Secretary, Mr. Temitope Peter Fashedemi in his welcome address, referred to the two outgoing Ministers as perfect gentlemen who within his short stay in office, had Wonderful working relationships.
" Most pending, lagging, stalled Power project's were duly completed due to the Hon. Minister's resolve and willingness to create a positive change and lasting experience in the Power sector.
Fashedemi appreciated the Chairman , Senate and House Committee on Power, all the Agencies under power and different stakeholder for their input in ensuring that the Hon. Ministers finished strong.
Representative of the House Committees, Agencies representatives, Directors of the Ministries took turns to describe the outgoing Ministers as hardworking and able gentlemen.
Recall that before the Hon.Minister of Power assumed office, electricity supply across the nation was epileptic. His tenure under the Buhari led administration brought positive change in the Power Sector. The general public attested to increase in electricity supply.
Dibiaezuo-Eke Florence
Director, Information.
26th May, 2023.