FEDERAL MINISTRY OF POWER SETS THE PACE IN FURTHERANCE OF MR. PRESIDENT'S STEADFAST COMMITMENT TO STAFF WELFARE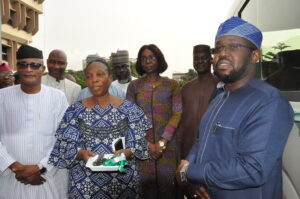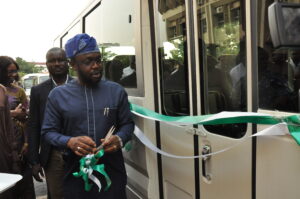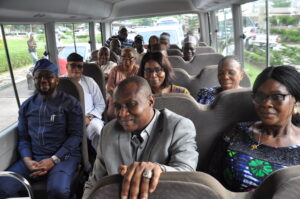 The Federal Ministry of Power, in alignment with President Bola Ahmed Tinubu's commitment to improved staff welfare, has made available new fleet of staff Buses.  This is with a view to ameliorate the hardship being experienced by the staff with regards to transportation to and from work. Two (2) 32- Seater Coaster buses and 3 Hiace buses were recently provided by the Ministry for staff use. These brand new buses were commissioned by the Permanent Secretary (Mr.Temitope Fashedemi) and handed over to the Union leaders at the Ministry's Headquarters at Maitama, Abuja on the 10th August, 2023.
The Permanent Secretary, while handing over the buses charged the staff to ensure that the buses were properly handled and managed judiciously, emphasizing that using the buses efficiently will not only prolong the life-span of the buses but shall also encourage the management to continue to add new ones to the fleet of staff buses.
The Permanent Secretary in addition to the new buses, also refurbished the grounded old staff buses for staff use.  All these is to ensure that the current high cost of transportation and hardship being experienced by staff is reduced to the barest minimum.
Earlier, the Human Resources Management Director, Mrs. Victoria Adeosun, thanked the Permanent Secretary and the Management of Federal Ministry of Power for the effort being put in place for the well-being of the staff and constant improvement in staff welfare.  The Director while showering encomium on the Permanent Secretary, stated that the enhancement of staff welfare brought about by Mr. Fashedemi since assumption of duty in the Ministry cuts across board, including the aspect of Staff training etc. She added that the recent Staff buses acquisition is a very good testimony of a Permanent Secretary who has the Staff progress and success at heart.
Mrs. Ann Amahaotu while giving vote of thanks on behalf of the staff stated that the joy of the Staff for this giant stride taken by the Permanent Secretary is beyond words.  She expressed the Staff gratitude at these efforts being put in place by management in order to encourage the Staff to be more productive.  The Union representative assured the Permanent Secretary that the Staff buses will be judiciously and effectively managed. This is in order to ensure sustainability. She assured the management that the buses shall be managed, maintained and utilized for the actual purposes and benefit of Staff of the Ministry.
Signed:
Florence Dibiaezue-Eke (Mrs.)
Director, Information and Press
Thursday, 10th August, 2023